Chorlton Beer Festival
The 15th Chorlton Beer and Cider Festival will be held on 11th - 13th July 2019 at St Clement's Church on Edge Lane in Chorlton-cum-Hardy.
Run in conjunction with St Clements, the festival began in 2005 to raise funds for the repair of the church buildings, but has grown to become a firm fixture in the Chorlton social calendar and the branch's premier festival. The festival continues to raise funds for the upkeep of the church complex which offers a wide range of meeting places serving the Chorlton community.
The festival takes place in the buildings and grounds of the Church. 2019 will see the festival focus on local breweries and community events. Expect 60+ beer plus one of Manchester's largest cider & perry bars with over 50 traditional ciders & perries.
There's live music in the grounds and a range of quality street food available at each session.
For more info see www.chorltonbeerfestival.org.uk
As regular festival attendees will know, Chorlton Beer & Cider Festival is run by Trafford & Hulme CAMRA in association with St Clement Church.
Proceeds from the festival are used to support St Clement's work supporting the Chorlton community – over the years, funds raised by the festival have supported the maintenance of the church buildings and helped fund the creation of three halls for community use, disabled toilets, updated electrical systems, new kitchen facilities and much more.
Like many of you we are gutted there will be no festival this year. However, St Clement's still needs help to cover the maintenance of the church during lockdown.
There is a Just Giving page where you can contribute to the shortfall in St Clement's funding due to the pandemic and help them continue their work in the community.
Please donate if you can. The entry without beer tokens would only have been a fiver... Thank you!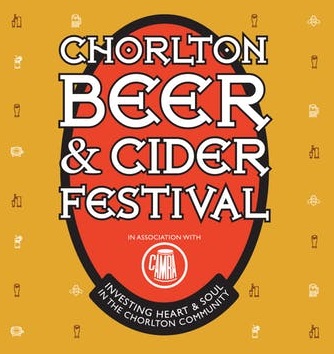 The 15th annual festival at St Clement's Church will be held on Thursday 11th, Friday 12th and Saturday 13th July 2019.
This popular event is organised by St Clement's in association with Trafford & Hulme CAMRA, in the grounds and buildings of the Edge Lane Church will be filled with over 150 different real ales, craft beers, world beers, ciders and perries.
Thursday evening will be a quiet "meet the brewers" night while Friday and Saturday evenings will see the grounds filled with live music.
Opening times are:
Thursday 11th July: 6pm – 10.30pm
Friday 12th July: 6pm – 10.30pm
Saturday 13th July: 1pm – 9.30pm
Advance day tickets and three day season tickets are available now from
https://chorltonbeerfestival.org.uk/tickets/