Trafford & Hulme branch's Cider Pub of The Year is Font bar on New Wakefield Street, in the shadow of Oxford Road Station.
Although they do a roaring trade in selling cocktails to students, they also slightly more quietly stock and excellent range of world beers and cask ales for the more discerning drinker. Last year they introduced traditional cider and perry for sale from the back bar and have done an excellent job of introducing many of their young customers to the real taste of cider and perry containing nothing but apples & pears.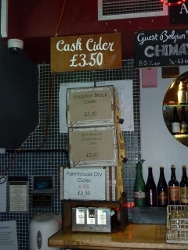 So successful have they been that sales have rocketed to the point that just as their award was announced they broke the news that they are to expand their range to aim for four ciders and perries. They are also planning their first cider festival for May - see next month's OT for details.
Despite their largely academic client base, all are welcome, with CAMRA members entitled to a 25% discount on their cask ales, ciders and perries on presentation of a valid membership card.
Font will be presented with their award on Tuesday 10th April - everybody welcome to come down and enjoy a pint or two of cider and perry from 7.30, with the presentation to be made around 8.30pm.