The Trafford & Hulme Branch Pub Of The Season for Winter 2011/2012 is The Beech Inn on Beech Road, Chorlton.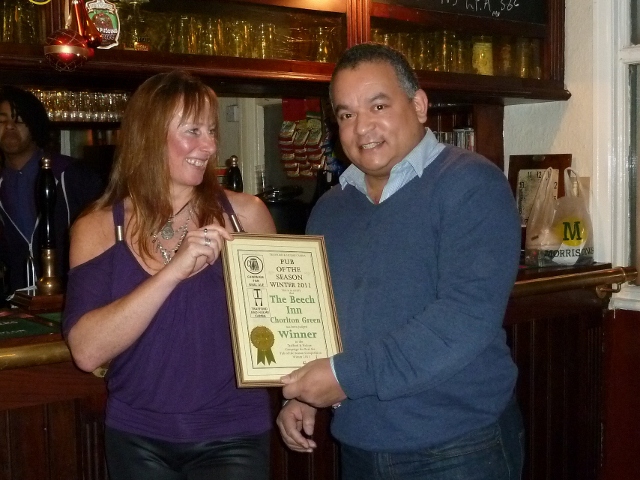 The award was presented on 27th December when the pubs' many regulars joined local CAMRA members to congratulate landlord Chris Clish and his team on turning round this former Good Beer Guide pub. Pictured are local CAMRA member Heather Airlie presenting the award to Chris.
Just two years ago, the pub was closed having gone through a number of temporary managers under owners Enterprise Inns and many locally feared it would join the ever growing list pubs that never re-open. Since Chris and his wife Julia took on the pub in 2009, they have slowly and steadily rebuilt it's reputation as both a pub and the heart of it's community and where good beer is assured. Troublemakers have been barred, regular folk and jamming nights have returned, the cask ale range has grown from three regular ales to up to as many as eight and the pub recently held it's first ever beer festival. While Chorlton's plethora of excellent modern bars is very welcome, it is also heartening to see many of the area's younger drinkers are discovering in The Beech Inn just how great a real traditional pub can be. More improvements are planned for 2012, with Enterprise having promised an internal refurbishment and Chris also in negotiations to add a further four handpumps.