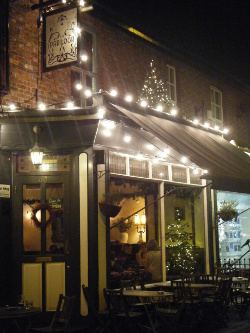 The Trafford & Hulme CAMRA Pub Of The Season for Winter 2012/13 is The Parlour, Beech Road, Chorlton.
The presentation will take place from 8-30pm on Thursday 10th January. All welcome to join in the celebration and beat the post-holiday blues.
Since opening in 2010 The Parlour has attracted plenty of attention and customers. Sister pub to the much revived Castle in Manchester, real ale is a prominent feature of the bar, and a newly discovered passion for managers Jamie and his wife Goska.
When they got together with business partners Jonny Booth and Rupert Hill, they had planned on working as a team at The Castle, however, once launched it quickly became apparent that they needed another challenge. Chorlton had been a favourite destination, so The Parlour was created to complement both the new-look Castle and the eclectic Beech Road. Although very much real ale focussed, food is also an important element of the bar. With a partly sectioned area on one side, this presents as a more food orientated set up, however, whether eating or drinking, there are no restrictions as to where to sit.
The food is made with locally sourced ingredients, and its popularity was recently rewarded by Guardian readers when they voted them winners of the Best Sunday Lunch award, a tremendous achievement.
On this occasion it is the real ale that this branch is celebrating; it was Jonny's desire and enthusiasm for beer that drove the refurbishment of The Castle, and continued with The Parlour. A number of local breweries frequent the bar, such as Dunham Massey and Red Willow, while those from further afield are also popular, like Moorhouses. With space for 18 firkins in the cellar, the team of 3 cellarmen try to provide beers that suit the seasons. In the summer they may choose wheat, or blonde beers, while winter may see more dark beers appearing. Currently taking part in the Winter Warmer Wander for the first time, this has introduced new customers to the bar.
With the continuously rotating beers and drive for enhanced quality they are even now looking at ways to increase the number of hand pumps on an already crowded bar. Future events to look out for will include more brewery nights and special food tastings.