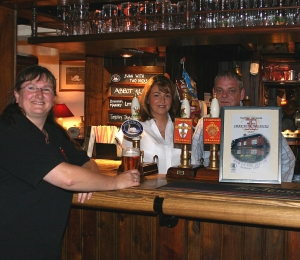 This summer's Pub of the Season award from the Trafford & Hulme Branch took place at the Swan with Two Nicks on 16th July. Sixteen Branch members attended and the presentation to the licensee, Ann Amphlett, was made by Beverley Gobbett, Chair of the Branch. The award was in recognition of the range and quality of the beers, for which the Swan was voted into the current GBG for the first time. During Ann's 3 year tenure the number of cask ales available has increased from 3 to 7. In particular, the Branch wishes to recognise Ann's strong support for the nearby, newly-established Dunham Massey Brewery and its brewer John Costello. Typically, 3 of his beers were available on the night: Big Tree, Stamford and the latest Little Bollington Bitter. Ann also supports another local micro-brewery, Coach House of Warrington, who provide the house beer named after the pub. Also permanently available are Timothy Taylor's Landlord and a stronger beer, often Abbot Ale.
Ann's philosophy is to keep the Swan as a traditional old country inn (no loud music or fruit machines) serving a range of interesting cask ales. Apart from customers who are using the large restaurant at the rear of the pub, added on about 20 years ago, about 70% are walkers or cyclists popping in for a drink whilst visiting the nearby Dunham Massey Hall and Deer Park owned by the National Trust. Ann has a family tradition as a publican (her father and grandfather were licensees) and over the last 15 years has been licensee of several other pubs in the area, including the Church Inn (Mobberley) the Egerton Arms (Astbury).
Why, you might ask, was the award made by the Trafford & Hulme Branch, when the Swan is in Cheshire? Well, it's only a few yards over the border (the River Bollin) so historically, for convenience, it has been under the wing of T&H.
Refreshments were kindly provided by Danny Burns, the Head Chef.
Picture:
Beverley Gobbett (left), Chair of the Trafford & Hulme branch, with Ann Amphlett (licensee) and Danny Burns (Head Chef) after the Pub of the Season presentation of the framed certificate on the bar.