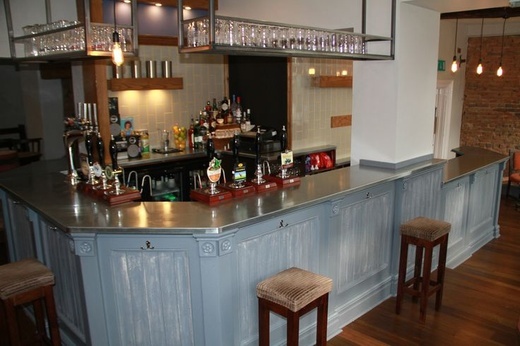 Altrincham's Orange Tree re-opened on October 8th. As reported previously, the pub has been taken over by Chris Clish who has overseen the revival of Chorlton's Beech Inn. Chris has gone into partnership with Gabrielle Burns-Smith, formerly his manager at The Beech Inn and her partner James Dainty to take the lease of the Enterprise Inns pub. The pub has undergone an extensive refurbishment lasting two months and is now a much smarter affair than it was previously.
Externally the rather garish orange colour scheme has been replaced with a much more subdued green while internally the is a mix of stripped brick walls and plain grey plaster. On entering the pub, seven handpumps flank the corner of the bar in front of you. Five dispense real ale with two given over to cider. Three regular ales are Landlord, Copper Dragon Golden Pippin Thwaites Wainwright while when the branch's Altrincham Market social called on October 17th, the guests were Dorset's Otter Amber & Rudgate Ruby Mild. Gabby told us that their is an eighth line installed but they are physically struggling to fit the pump in. She also told us that while none was available on our visit, they will be aiming to have at least one local brew available - beers from Mobberley Fine Ales have been going well and they also had Beartown in the cellar.
The interior decor is a work in progress, with window blinds having arrived onthe day of the social and fabric for the curtains on order. Once it settles down, the currently bare walls will eventually display works from local artists. There will be real fires in both the main and rear rooms come winter. A TV will be installed shortly but it will be for terrestrial TV only (as at The Beech). Opening times are currently 4pm - 11pm Monday to Thursday and 12 - 12 on Friday & Saturday although weekday opening will be extended when works are completed (and the coffee machine arrives).
The formula for the pub will be much the same as has worked successfully at The Beech Inn - simply offering good beer & a warm welcome in a safe environment.