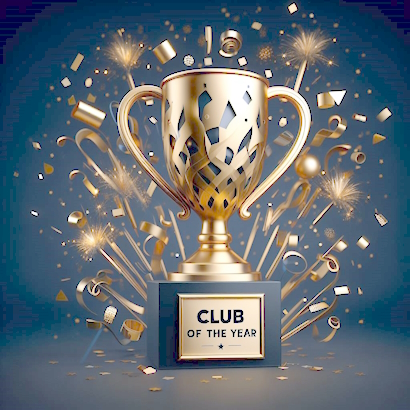 Flixton Conservative Club.
For 10 years running now, FCC has won the Trafford and Hulme Club of the Year award! Such an amazing accolade just shows what a fantastic club they are.
Ralph Warrington, Regional Director, presenting the award to Andrea, Club Steward and barmaid bar heroess - Pauline
Well done everyone!
For more information on what's going on at Flixton Conservative Club, head over to their website at https://flixtonconservativeclub.co.uk/
Congratulations to Costello's Bar Altrincham
Are the winners of our Pub Of The Season Autumn 2023.
The award was presented to the Manager and Assistant Manager, Jack and Olly, by our outgoing and new Chair.
At the time of the presentation Jack was serving his last few shifts as Manager. Lucy from Costello's Bar Times Square, Warrington, has taken over the top job at Costello's Bar Altrincham.
It is very much a case of welcome back Lucy! Lucy used work in their Altrincham bar before taking on the role as Manager at their Times Square bar. Trafford and Hulme CAMRA wish Jack all the best for the future after serving customers for 12 years at Costello's Bar Altrincham.
This is the third award we have presented to this venue this year, in January they were presented our Special Award for being in the Good Beer Guide for 10 consecutive years and then in May they were awarded our Runner-Up Pub Of The Year 2023. Plus, all the other awards that the bar and brewery has won over the years.
Well done to all the team!
Congratultions to The Carlton Club for winning our Community Club / Pub Of The Year 2023.
On the stage is Roo, Bar Manager, receiving the award on behalf of the Club from our Vice Chair during their Jazz Night.
A well deserved award.
Subcategories
Trafford & Hulme Branch awards four seasonal awards to pubs, bars & clubs in the branch area
The Pub Of The Season award is presented to a pub or bar within the branch area which has excelled in one or more areas:
a) introducing real ale to a new area or market where none has been available
b) on-going excellence in the quality of real ales (and ciders) on offer
c) on-going excellence of service to customers and/or the local community
d) significant increases in the sales of real ales and/or traditional ciders
e) excellence in support promotion of CAMRA and its aims
f) significant charitable work
Nominees for the award are put forward by local CAMRA members & voted on by branch members once a quarter.
A pub (while under the same management) cannot be Pub Of The Season more than once in a 3 year period. A pub must have been under the same management for over one year before it becomes eligible to be nominated as Pub Of The Season.
Find out more about Trafford & Hulme Branch's process for pub and club awards here.