The Trafford & Hulme Pub Of The Season for Spring 2015 is The Sedge Lynn, Chorlton-cum-Hardy.
Whilst possibly not having the trendy appeal of some of Chorlton's other bars, the Sedge Lynn sits quietly on Manchester Road selling vast quantities of quality real ales day in day out. Its 12 handpumps will typically feature 8 different real ales alongside two traditional ciders and have seen it become one of JD Wetherspoon's top selling real ale outlets, easily selling more real ale than most of it's competition.
Current manager Kirstin Downham took over 18 months ago having moved from The Kingfisher in Poynton. Local readers may also remember her from Didsbury's Milson Rhodes where she was the original manager in 2010. Since moving to Chorlton, Kirstin has continued the good work of her predecessor Leanne Kempthorne who boosted real ale sales at the pub with a more varied range and much improved quality, taking the pub into the Good Beer Guide in the process. In September last year, the pub was named the North West regional winner for Real Ale in Wetherspoons annual awards.
Pub of The Season for Winter 2014/15 was The Beech Inn, Beech Road, Chorlton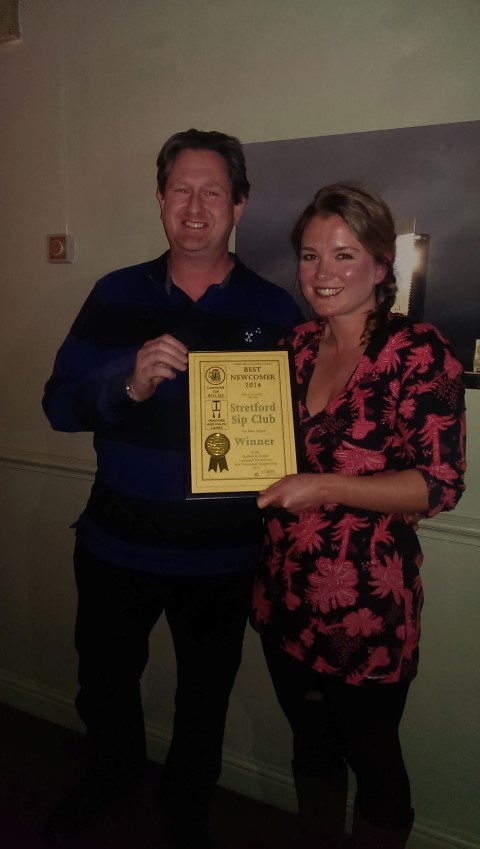 The branch has named The Sip Club, Barton Road, Stretford as Best Newcomer 2014.
The bar which was also the branch's Pub of The Season for Autumn 2014 opened in April 2014 but has made a massive impact in such a short time - some much that even before CAMRA could present the Newcomer Award, it was named "Best Bar" in the annual CityLife Awards.
They went on to complete a triumvirate of awards with an off-field offering from the Federation of Small Businesses in recognition of their efforts to promote and engage with other Stretford businesses. Local MP Kate Green nominated the bar for the Business Buddy Award after noting their efforts to use local suppliers whereever possible (including almost exclusively offering beers & ciders from local brewers and producers) and to promote other Stretford businesses via events such as the bimonthly "Made In M32" craft fairs.
Pictured is branch chair Paul King presenting owner Heather Garlick with the Best Newcomer award.
The runner up for Best Newcomer was The Moose in Hale.
Congratulations to Carl and Steve (pictured left, with Trafford & Hulme branch's Mark Reeves) and the rest of the team at the Church Inn, Hulme, on winning the 2014 Trafford and Hulme Most Improved Pub of the Year award.
A JW Lees pub, it was refurbished in 2013 with a new kitchen and outdoor drinking area and a warm welcome is always guaranteed. Having successfully run a bar in Macclesfield for 14 years, the Church set them a new challenge, having been off of the real ale map for years and generally a bit run down and ignored. It now serves two Lees ales and has a real community feel with a clientele consisting mostly of locals, students and university staff.
A kitchen fire in 2014 was a small setback but they have shrugged that off and continue to serve excellent home cooked food (the steak and ale pie is a winner, according to regulars). In an area where traditional pubs can be counted on a few fingers we wish them a long and prosperous future, well done!
Congratulations to our Pub Of The Season for Autumn 2014 - the Stretford Sip Club.
The award was presented on Friday 26th August.
Pictured: Branch vice-chair John O'Donnell with Sip Club owner Heather Garlick
Subcategories
Trafford & Hulme Branch awards four seasonal awards to pubs, bars & clubs in the branch area
The Pub Of The Season award is presented to a pub or bar within the branch area which has excelled in one or more areas:
a) introducing real ale to a new area or market where none has been available
b) on-going excellence in the quality of real ales (and ciders) on offer
c) on-going excellence of service to customers and/or the local community
d) significant increases in the sales of real ales and/or traditional ciders
e) excellence in support promotion of CAMRA and its aims
f) significant charitable work
Nominees for the award are put forward by local CAMRA members & voted on by branch members once a quarter.
A pub (while under the same management) cannot be Pub Of The Season more than once in a 3 year period. A pub must have been under the same management for over one year before it becomes eligible to be nominated as Pub Of The Season.
Find out more about Trafford & Hulme Branch's process for pub and club awards here.
The Pub Of The Year award is presented annually to a pub or bar which in the opinion of the membership "ticks all the boxes". It should ideally offer a range of quality real ales, including speciality styles like dark beers; offer good real cider and perry; and offer at least one LocAle. A branch pub of the year should be a community pub that provides events and services for the local community. The pub should have a strong identity and personality that will often reflect the tastes of the licensee. The pub should exude a sense of welcome and the experience of your visit should leave you wanting to return.
The pub or bar should be the one the branch feels is the very best overall in our area as the Pub Of The Year shall be put forward by the branch for entry into the Greater Manchester Regional round of the CAMRA National Pub Of The Year award where it will be judged on quality of cask ale (and cider); atmosphere; décor; customer service; welcome; value for money; customer mix.
Find out more about Trafford & Hulme Branch's process for pub and club awards here.
While the branch celebrates four Pub Of The Season winners throughout the year, these often go to long standing pubs and bars which are awarded for longevity of excellence. Starting from 2013, the branch decided it wanted to also recognise pubs that excel in specific areas.
The branch presents four annual awards in addition to existing Pub of The Season and Pub Of The Year awards:
Best Newcomer
Most Improved Pub Or Club
Best Community Pub
Best LocAle Pub or Club
For full details of the awards, click here
The Club Of The Year award is presented annually to the club, which shows the greatest commitment to Quality Real Ale. Factors to be considered are quality of cask ale (and cider); sympathy with CAMRA's aims (e.g. CAMRA literature displayed; hosting CAMRA events such as branch or committee meetings); welcome given to non-member cask ale drinkers; value for money on cask ales and ciders; promotion of real ale (e.g. real ale beer festivals, brewery nights, other real ale promotions).
Additionally CAMRA members must be welcomed to drink in the club on production of a current CAMRA membership card (guest admission fees and maximum visits before joining the club may apply).
Find out more about Trafford & Hulme Branch's process for pub and club awards here.
The Cider & Perry Pub Of The Year award recognises a pub, bar or club that has best excelled in the promotion of real traditional draught ciders and perries appropriately served. Quality of the cider and perry offered is the most important criteria alongside overall promotion of real cider and perry and cider producers by the pub (e.g. posters and literature in the pub; tasting events; cider and perry pub festivals). A branch cider/perry pub of the year should offer a good range of quality real cider and perry, and ideally the choice over time should include a range of styles from different cider producers.
Find out more about Trafford & Hulme Branch's process for pub and club awards here.
The Trafford & Hulme Cask Champion award was created in 2010 to recognise the achievements of a person, group, pub or company that have made an outstanding contribution to furthering CAMRA\'s aims in the branch area.
There award is only presented infrequently when the branch considers that there is a candidate worthy of this honour.
Find out more about Trafford & Hulme Branch's process for pub and club awards here.